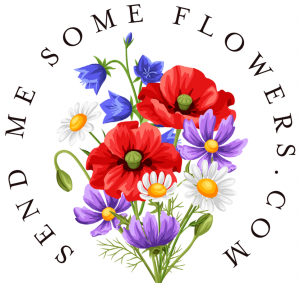 We only provide 2 options of flower bouquets.
Rose Bouquet which includes mixed roses, complementing flowers and greenery.

Mixed flowers that are in season and sure to bring a smile to the recipient.
Why?  There are 1000's of florist each with their own special arrangements.  We don't use the big national florist networks who advertise an arrangement then sends the order to a local in network florist to be filled. Only to learn that substitutions have been made at the local level due to availability of the actual flowers they have.  The arrangement you thought you sent isn't anything like what was delivered.
Our approach is this.  Each arrangement is $90 plus our fee of $10 for a total of $100 charge too you.
We order directly with the local florist and ask them to provide us with a creation of their own which is usually a more spectacular arraignment of flowers than you get from the networks.
We get more for our $ because:
The local florist doesn't pay the network fee on our order.

We get a better delivery fee by ordering direct.

The florist gets to create (something they love to do) a one of a kind arrangement using the flowers they have available.
Special NOTE:  Deliveries are made as soon as possible after order has been received.  Keep in mind that we have to contact the recipient for a delivery address and then order with a local florist. So expect 3 to 5 business days.  We can not guarantee a specific delivery date!  If you are trying to have flowers delivered on a specific date you should order at least 2 weeks in advance and put the desired delivery date in the "special instructions" area on the checkout form.  We will do everything in our power to have the flowers delivered on the date you request, but we can not guarantee a delivery date.