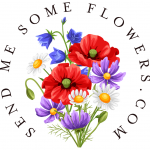 We provide a private secure anonymous way to send anyone in the USA a bouquet of flowers.
We accept only crypto currencies. Don't have any? Don't fret you can sign up on checkout and use a credit/debit card to acquire some crypto currency through coinbase or

use this link

to sign up ahead of time and set up an account. Using crypto currency insures your anonymity.
How it works:
The sender orders a bouquet of flowers and provides us with an email address and/or mobile phone number of the intended recipient.
We reach out to the intended recipient and let them know they have a bouquet of flowers waiting to be delivered to them.  We don't tell them anything about the sender.  Once we have a delivery address we order the bouquet of flowers from a local florist.
The card accompanying the flowers will state they are from Sendmesomeflowers.com and if any message from the sender it will be included.
Once the flowers have been delivered the sender get a delivery confirmation email.
Never do the identities of the two parties meet.  The delivery address nor the local florist information is ever shared with the sender and none of the sender's information is shared with the recipient.
Once the order has been completed all details of the transaction is purged from our order system.
Special NOTE: Deliveries are made as soon as possible after order has been received. Keep in mind that we must contact the recipient for a delivery address and then order with a local florist. So, expect 3 to 5 business days. We cannot guarantee a specific delivery date! If you are trying to have flowers delivered on a specific date you should order at least 2 weeks or more in advance and put the desired delivery date in the "special instructions" area on the checkout form. We will do everything in our power to have the flowers delivered on the date you request, but we cannot guarantee a delivery date.
BTW – we are a USA company!