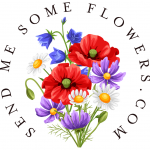 Attention:
Social Media personalities, PSO's, Cam providers, OnlyFans Personalities, Patron Personalities, TikTok personalities …. anyone who wants to protect their identities, you can now have your fans, customers, clients, patrons, admirers send you flowers!   Real life flowers delivered to you via your local florist without compromising your identity!
Enjoy the fruits of your labor by receiving fresh flowers.  When was the last time you had the joy of enjoying fresh flowers?
Your devoted fans, clients, admirers would jump at the opportunity to send you some joy to brighten your day via flowers.  
Sendmesomeflowers.com is the way you can receive fresh flowers from a local florist completely privately, securely, safely without any possibility of revealing your identity or location.
All you need to do is post wherever your customers find you that you would like to receive fresh flowers via Sendmesomeflowers.com – You are welcome to copy and use our logo. You can download or logo by clicking here.  Be sure your hot link the logo to https://sendmesomeflowers.com
Or post these QR Code everywhere you connect with your supporters:


————
This how it works:
The sender orders a bouquet of flowers and provides us with an email address and/or mobile phone number of the intended recipient.
We reach out to the intended recipient and let them know they have a bouquet of flowers waiting to be delivered to them.  We don't tell them anything about the sender.  Once we have a delivery address we order the bouquet of flowers from a local florist.
The card accompanying the flowers will state they are from Sendmesomeflowers.com and if any message from the sender it will be included.
Once the flowers have been delivered the sender get a delivery confirmation email.
Never do the identities of the two parties meet.  The delivery address nor the local florist information is ever shared with the sender and none of the sender's information is shared with the recipient.
Once the order has been completed all details of the transaction is purged from our order system.
———
If you have any questions, concerns please email me at

sendmesomeflowers@gmail.com